Controlling the Grieving Process (Or Not)
I'm frustrated that I can't control the timing of the grieving process.
A couple months ago I thought I had processed the grief of Tiffany's illness and death as much as I ever would. I felt ready to move forward in my life. I was doing well and out of the dark abyss I'd been in so long.
Then the grief unexpectedly (at least for me it was unexpected) started coming up in large doses. Never having walked this road before, I misjudged the process.
At first I denied the feelings and suppressed them. I didn't want to feel what I was feeling, and didn't want to accept the consequences of what it would mean — that I was not as far along the road as I thought.
Then I told myself it was just an internal weakness. I toughened up and tried harder, but it was unrelenting.
When I realized I couldn't ignore it or will it away I decided to take a short break from this trip and figure out how to address it in a healthy way.
What I've Learned Over the Last Week
I've found that when we deny reality, it creates anxiety and stress. Our internal peace is destroyed. When we accept and embrace reality for what it is and work with it, then we can feel internal peace even if that reality is terrible.
I've learned that I need to enjoy life again and be as whole as I can be, with myself. After accomplishing this then I'll be ready to add a relationship and be healthy in it.
I'm grateful to have this realization.
However, I'm distraught because my misjudgment in understanding myself and this grieving process has caused deep pain in people I love and care about.
Finding Enjoyment Alone
In order to work on making myself as whole as possible, I'm starting to do things I would otherwise avoid doing by myself.
When the motorhome was being repaired for 5 days in Washington State in July, there were speedboat races on the Columbia River two miles from my hotel. They had air shows between races, modern jets and vintage planes. I love that stuff. I didn't go though because I was alone- I should have gone.
With my new clarity, this is changing. For example while driving through Moab on my way to Monticello I passed the Arches National Park. I've had a desire to do aerial filming at unique and interesting natural sites across the country. After driving by I had a stern talk with myself that went something like this:
Old self: "Ignore the park and the cool natural beauty and the drone in the back of the car. You are alone and nobody does stuff like this alone."
New self: "You want to do aerial photography of beautiful natural places. If Arches doesn't match that exactly, then nothing does."
Old self: "Just keep driving and ignore your new self."
New self: "If you don't stop and do this you'll regret it later. And then it will be more difficult the next time you need to do something alone."
Old self: "Umm, I'm out of arguments."
New self: "Turn around now and just do it."
I turned around and did it.
The result? I enjoyed it 🙂
Balanced Rock Aerial
The aerial video I shot at Balanced Rock is below. If you watch closely, you'll see a one second clip where a man is throwing rocks at the drone.
When I was landing it he told me he was throwing rocks at it, and asked if I was worried. I responded with a smile that I didn't notice him doing it, and he probably needed a gun to have a better chance at hitting it.
I had to look closely in the video editing to even find it, but it's in there 🙂
It cracked me up that somebody would want to knock it out of the sky instead of watching it fly. It's pretty cool! You'll see at the end of the video that everyone in the parking lot was enjoying watching the thing fly, some were even taking pictures of it.
The fellow walking away in the yellow shirt had been standing right next to me the whole time watching the video on the iPad as I flew around. He was pretty excited and couldn't stop expressing his enthusiasm. That put a smile on my face, enthusiasm is contagious.
Tiny Monticello Has a Great Restaurant
I had dinner at "The Peace Tree Juice Cafe." This town only has
1,975 people in it. If you are going through Monticello, eat here.
The place is quaint and very unique.

Here's another selfie (you were supposed to not let me do these anymore!) sitting alone and feeling a little bored 🙂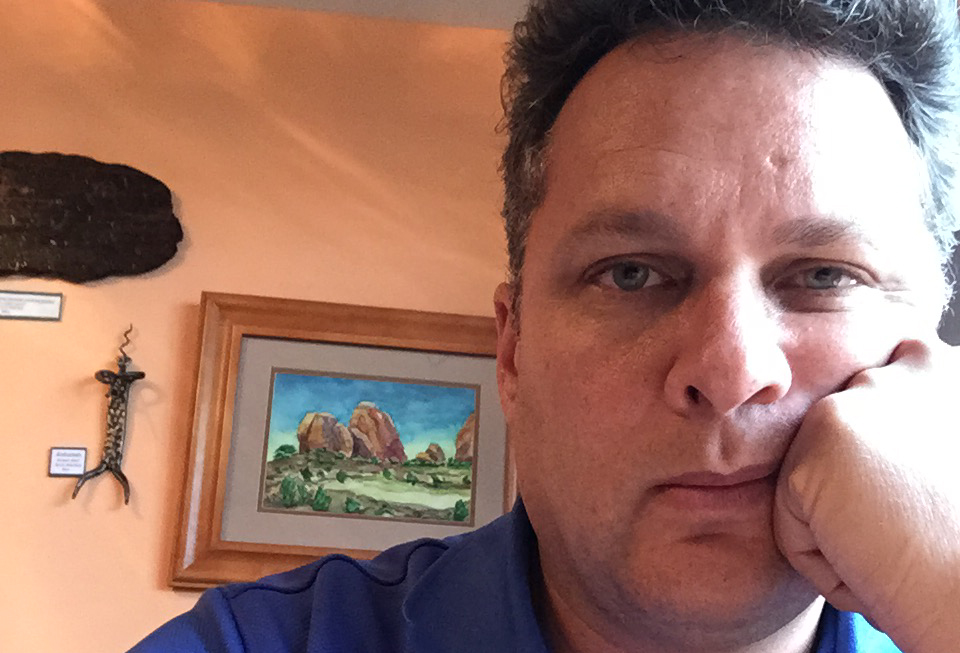 The Fettucini Alfredo with steak was good. I don't know how to describe food. If I like it, it's 'good'. If I don't, it's 'bad'. This was good.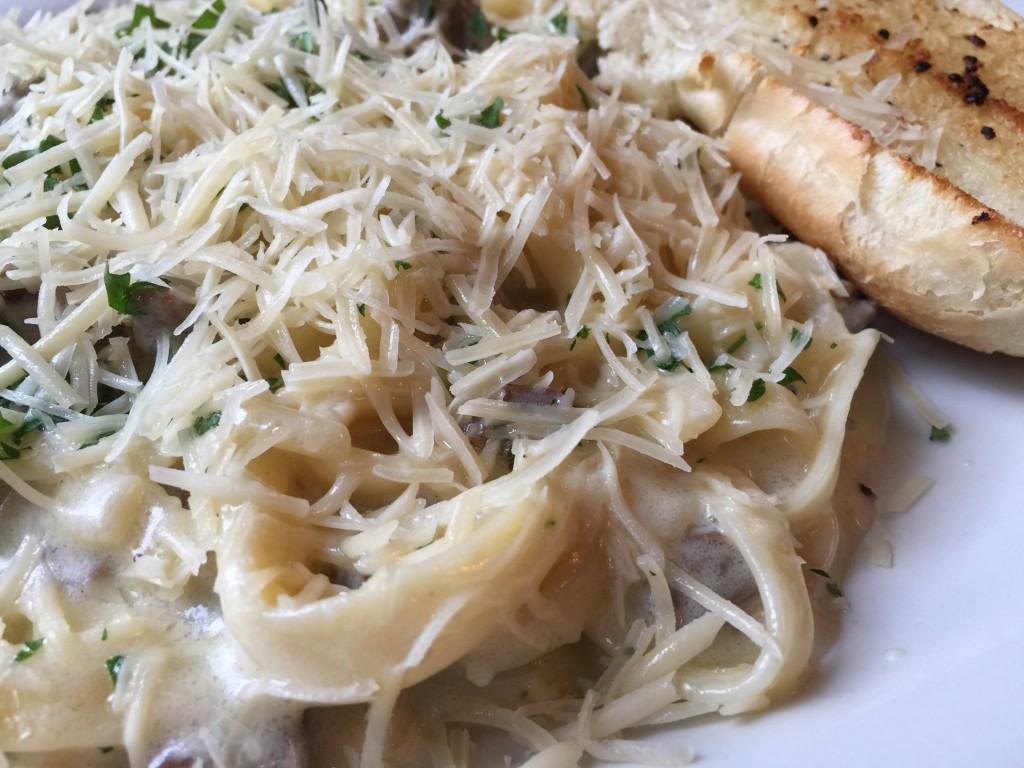 The Monticello Temple
The stormy sky makes for a dramatic photo of this temple.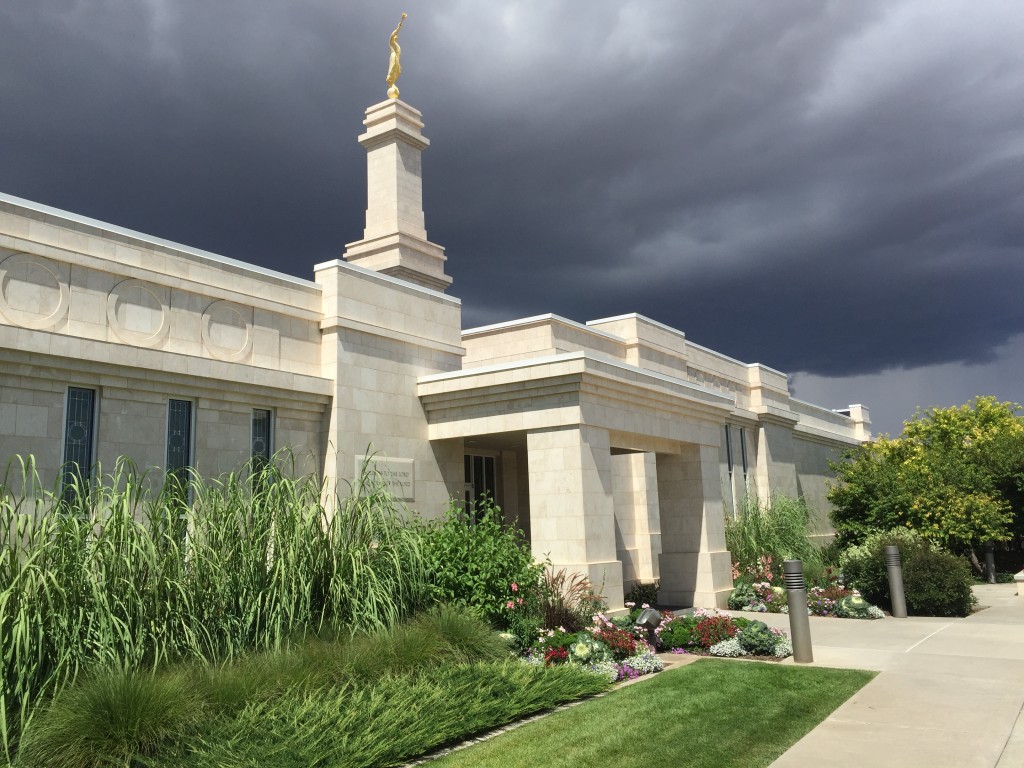 These stained glass windows let light into the Celestial Room.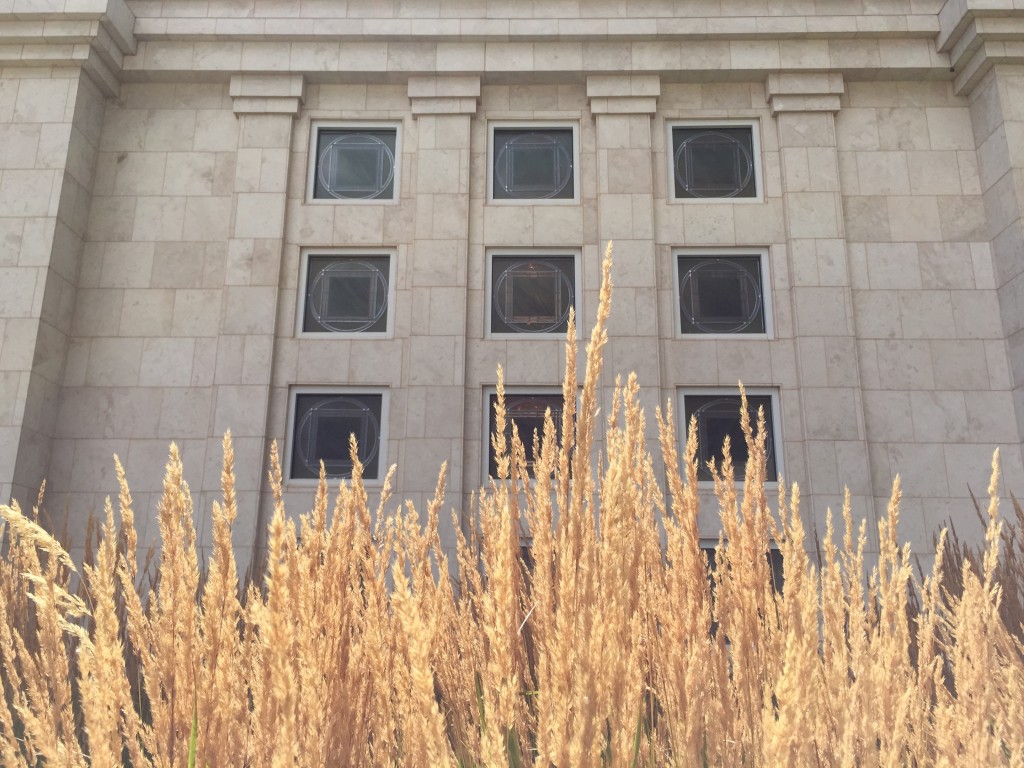 Every temple I've seen has beautiful flower arrangements in the landscaping. This was no exception.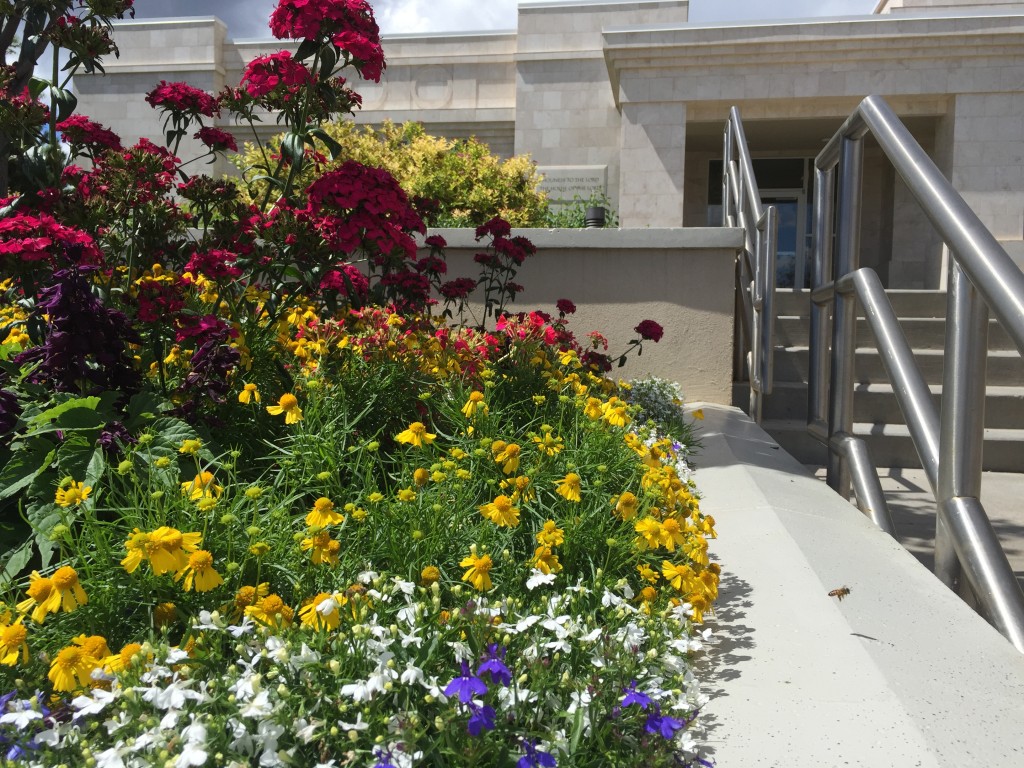 Here's an aerial video of the temple. I went over about 7a just as the sun was coming up to do the filming.